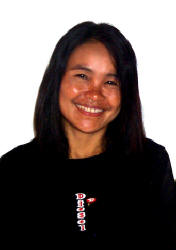 Klairung Sangprasit
Rung was born on April 28, 1967 in Ahngnam, Phetchabun, Thailand. She married in 1984 and has one son, Oasa Chusengrot, born in 1985. She was divorced in 2001 and shortly after moved to Koh Samui, a resort island in the Gulf of Siam (Thailand) off the coast of southeastern Thailand. She worked various jobs while in Koh Samui and met Bill while working at the Health Oasis Resort in 2003.
Rung has visited Laos, Australia, Singapore, India and of course the USA several times where she holds a Permanent Resident Visa. She is a farmer and home maker with many interests and talents. They include aerobics, vegetarian cooking, Thai cooking, sustenance farm management, community service and Buddhism.
Bill Smart

Bill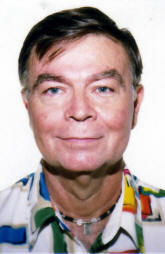 Bill was born on January 2, 1946 in Ironton, Ohio USA. He married in 1968 and has six children: Tanya, Paul, Nick, Kelly, Shannon and Erin. His children live in the USA in California, Oregon and Tennessee and have given him a total of nine grandchildren. Bill was divorced in 1992. Bill met Rung while residing at the Health Oasis Resort in Koh Samui in 2003.
BIll is an IT professional and has worked in many countries: USA, England, Argentina, Brazil, South Africa, Taiwan, Australia, Singapore, Malaysia, India, South Korea and Thailand. Bill's interests include writing, golf, pool/snooker, sustenance farming and zen.
About Us
Rung and Bill met in Koh Samui in 2003 at the Health Oasis Resort. They were married on July 7, 2004.
After their marriage they lived in Koh Samui for six months, and then moved to Rung's family property in Ahngnam, Phetchabun. There they first built a small duplex to be shared by Rung's parents and son. Afterwards they built a larger two-bedroom house on the same property. There are Photo Albums on this website showing both houses.
Ahngnam is a small village (15 families) in the Khao Wangchomphu mountain range near the town of Phetchabun and the smaller market village of Wangchomphu in the province of Phetchabun. It is located 350 kilometers northeast of Bangkok, which is about a five hour drive.