Papa's Eyes - a first person travel article written for Comair's in-flight magazine Comair Navigator by Bill Smart
"Look! There's another one!" whispers a man wearing a fire engine red Hawaiian shirt with sky blue parrots and cornflower yellow pineapples. He is nudging his wife to get her attention. I assume she is his wife since she is wearing a matching Hawaiian shirt with the same sky blue parrots and cornflower yellow pineapples, and pushing a tandem stroller containing twins, both toddlers wearing the same matching Hawaiian shirts. Could all four shirts be just a coincident? I think not. That would be a little too surreal even here in Key West where all things are possible.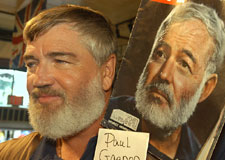 He is drawing his wife's attention to a stocky man in his mid-50's with a closely cropped full white beard, wearing a khaki safari outfit and a tan, long-billed fishing cap. His wife spots the bearded man and enthusiastically agrees, "Oh my! Yes, he's a good one. He's even got Papa's eyes!"
With whispered exclamations like these echoing up and down the crowded streets, it is not difficult to conclude this is Key West, and that it is the third week of July. That is when Sloppy Joe's Bar holds its world renowned Papa Hemingway Look-A-Like Contest, one of the highlights of the annual Key West Hemmingway Days Festival.
That is what I am here for; and that is why I am sitting on this stool in the infamous Sloppy Joe's Bar at the corner of Greene and Duvall Streets, sporting a closely cropped full white beard, wearing a khaki safari outfit and a tan, long-billed fishing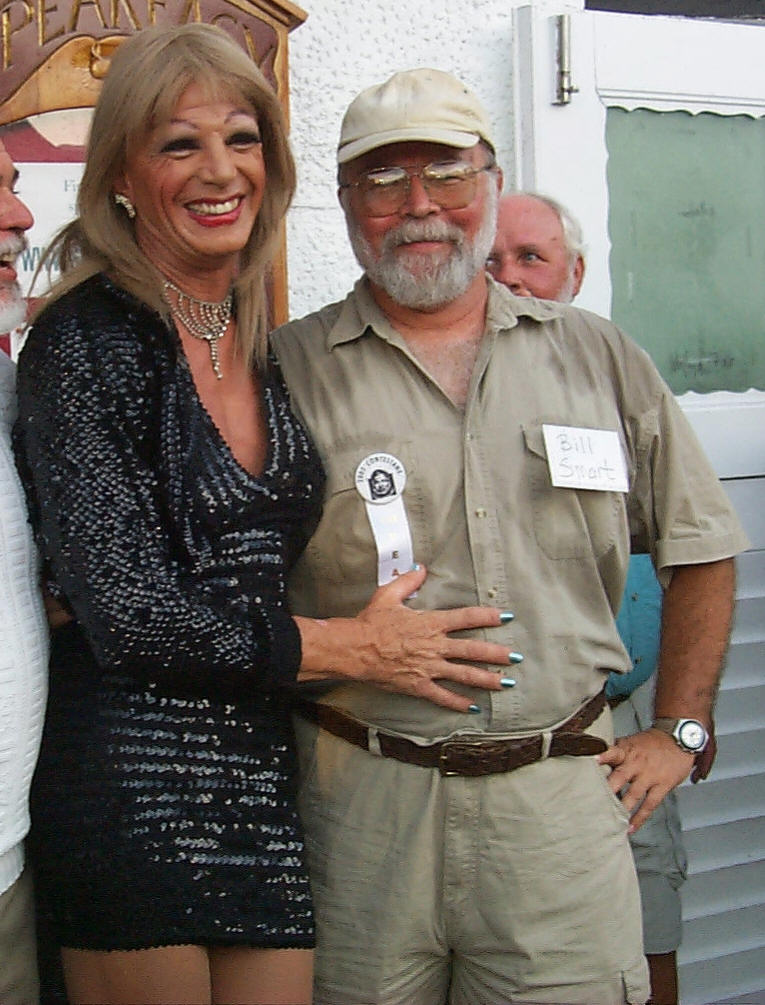 cap, and flashing my Papa's Eyes at every woman that walks past, escorted or not. My Papa's Eyes might be a side effect of the drink sitting on the long and crowded wooden bar in front of me. It is a 'Papa Dobles', a specialty of the house. It is a potent concoction made with juices of locally grown lime and grapefruit, sweetened with a few drops of maraschino juice, and fortified with an ample amount of Cuban rum. At least I am told it is Cuban rum. It is probably Castile, or at best Bacardi. But then again, maybe it is Cuban rum. Why else would it cost $6.50 a pop – or maybe I should say 'Papa'?
The drink almost lulls me into forgetting that it's July, it's Key West, and it's hot – very hot. There is no air-conditioning in Sloppy Joe's, but then there is no air-conditioning in most of the myriad of bars and shops and bars and stores and bars and restaurants and bars and cafés and bars that make up the tourist gauntlet of Key West's main drag – Duvall Street.
I have a theory that Key West bars purposely refrain from installing air-conditioning to help preserve, at least in part, the fishing village ambiance that attracted such notables as John Dos Passos, Tennessee Williams, James Herlihy, John Dewey, President Harry Truman, and the larger-than-life personage that today is most identified with Key West – Ernest 'Papa' Hemingway.
Hemingway was considered the most influential writer of his times, and one of the few to attain that status in his own lifetime. Depending on how you count, he has written as many as eleven novels, two major non-fiction books, an autobiography, numerous short stories and countless articles. His novel For Whom The Bell Tolls unanimously won the balloting for the Pulitzer Prize in 1940, but for political reasons he was not given the award. No prize was awarded that year. In 1954, though, he did win and was awarded the Nobel Prize for his lifetime contributions to the field of literature.
The mythos surrounding Hemingway, which evolved as a result of his exploits in Paris, Key West, Havana, Africa, and finally Ketchum, Idaho, is still large and persistent today. This mythos is especially alive and well in Key West, but just what is his connection to this once obscure little town?
Hemingway was born in 1899 in an upscale suburb of Chicago. By the time he arrived in Key West in 1928 he had worked as a reporter for a Kansas City newspaper, drove an ambulance for the Red Cross in Italy and was wounded during the early part of World War I, married his first of four wives after his return to the U.S, moved back to Europe, this time to Paris as the European correspondent for the Toronto Star Weekly, and was already beginning to receive world acclaim as a new, young, exciting and potentially important author. In Paris he had the opportunity to rub shoulders with other artistic revolutionaries of his day: literary notables Ezra Pound, Gertrude Stein, James Joyce, and painters MirÓ and Picasso. During these Paris years, and besides being a very successful news correspondent, he wrote and published several well-received collections of short stories and three novels, the most notable being The Sun Also Rises.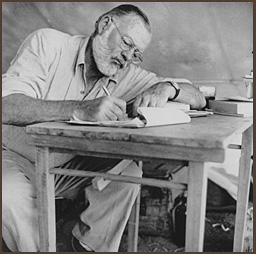 During his twelve years in Key West he completed and published A Farewell to Arms, and wrote and published several other lesser-known novels and numerous short stores. During the later part of his Key West era he wrote For Whom the Bell Tolls which was published shortly after he moved to Cuba.
His non-literary exploits, however, are what really fueled the mythos that connects him so inseparably with this small, Florida Keys town.
Hemingway was...well, dare I say it? Hemingway was a 'man's man'. In all fairness Hemingway was a 'man's man' before sensitivity training, animal rights activists and political correctness made being a "man's man" a social anathema, a term now fit only for the basest Neanderthals. Hemingway did not have the benefit of these modern, enlightened revelations. Perhaps if he did, instead of reveling in boxing, marlin fishing, African big game hunting and drinking legendary amounts of rum, scotch and good French wine; he would have cultivated his chess game, staged anti-fishing swim-ins, limited his hunting equipment to Nikons and Hasselblads, and drank only an occasional glass of white zinfandel.
For most of his life he was athletic, and despite his legendary drinking, kept reasonably fit. He enjoyed all kinds of physical activities. His house in Key West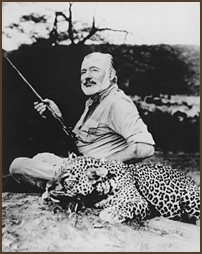 boasted a fully equipped outdoor boxing ring in which he would regularly spar with local all-comers, and as many of his out-of-town guests who were adventurous enough to face him in the ring. He had the reputation of being a formidable opponent. He was a rabid fisherman and hunter, catching hundreds of marlin in the warm waters between Key West and Cuba, and bagging leopard, lion, rhino, kudu as well as a large variety of other game on his first African safari. But it was his prodigious bouts of drinking that have imbedded him so deeply into the psyche of Key West.
It is said that Hemingway would rise early every morning with the sun. He would isolate himself in his writing sanctuary and produce three to five hundred well-crafted words by noon or one o'clock. After lunch with his family he would head down to his favorite Key West bar, the Blind Pig, to visit with the bar's owner, Josie Russell. There, among his cadre of friends called 'The Mob', he would talk and drink the rest of the day and night away. When leaving the bar in the early morning hours, even under the most challenging circumstances, Hemingway would easily find his way home by heading directly for the Key West lighthouse, which today still stands right beside his two-story home.
Today, however, you will not find the Blind Pig in Key West. Even while Hemingway was still a dedicated patron, the bar had changed its name first to The Silver Slipper, and then to its present name, Sloppy Joe's. It then moved about a half a block from its original location to its present location at the corner of Greene and Duvall Streets. In good modern Key West conservationist form, the old location was not wasted. Another bar, Captain Tony's, now occupies that site.
It is for these reasons that Key West so embraces Hemingway and has devoted an entire week in July to commemorate and celebrate his life. The festival, perhaps to emulate the multi-faceted man it honors, has a broad variety of activities ranging from photo exhibits, fishing tournaments, literary events including a short-story contest, and a Caribbean street fair, to a 5K run, and a sailing regatta.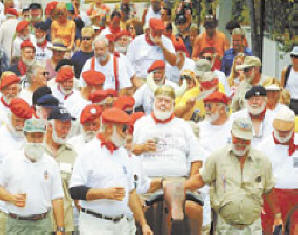 It also has several fun-filled and alcohol-enhanced events sponsored by Hemingway's favorite Key West bar, Sloppy Joe's. These include a Running-of-the-Bulls, a Key Lime Pie Eating contest, an Arm-Wresting contest; all taking place in front of the backdrop of Sloppy Joe's premier event, the Papa Hemingway Look-A-Like Contest.
Besides the festival there are plenty of other, standard Key West attractions. Key west is loaded with cozy, colorful bars. Besides Sloppy Joe's and Captain Tony's, several of my favorites are the Schooner Wharf Bar right on the docks, and the three-storied complex of The Bull, The Whistle and the Garden of Eden.
The Schooner Wharf Bar has a Caribbean-like setting with plenty of room outside, and usually has a great band on the outdoor stage. The three-story bar complex is at the corner of Duvall and Caroline Streets, just a block from Sloppy Joe's. The Bull is street level and often draws a sidewalk crowd. The nighttime entertainment is raucous and usually requires some degree, voluntary or involuntary, of audience participation. Just above The Bull is The Whistle. This bar is more secluded and can be a temporary hideaway from the hustle and bustle of Duvall Street, but still affords a great view of the downtown scene. On the top floor is the Garden of Eden. It is a clothes-optional bar, or so I am told - enough said about that.
Key West has a great variety of restaurants, from fine dining to pizza-in-a-cup kiosks. One of my favorites is Blue Heaven, which combines elegant meals with a back street, down-home Caribbean ambiance. It is off the beaten path and a little hard to find, but well worth the effort.
Lodging is never a problem. Besides a good choice of resort hotels, Key West has a lot of charming bed-and-breakfast style houses dotted all over the residential area just blocks from downtown. Many have swimming pools and other boarding house amenities.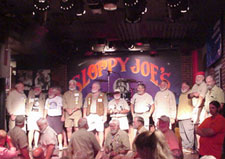 By the time the judging for the Papa Hemingway Look-A-Like contest got underway I am sure I had met, and had either bought a drink for, or been bought a drink by, most of the one-hundred and sixty of this year's contestants. It was like being in one of those 'House of Mirrors' at a fair. Everywhere I looked I saw dozens of reflections of me. I had never before been in the presence of so many handsome men.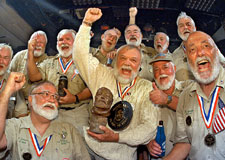 After the judging I worked my way through the crowd to shake the hand of this year's winner: Ron Thomas from Phoenix, Arizona. Ron had opted for a white, wool fisherman's sweater instead of the more popular safari outfit. I thought that if for nothing else he deserved the win for displaying the fortitude of wearing the sweater in the sweltering Key West heat.
I participated in all other events, the Key Lime Pie Eating Contest and the Running of the Bulls, except the Arm Wrestling Contest. I did not want to injure my arm and put at risk my ability to drink Papa Dobles while there was still plenty good Cuban rum left behind the bar at Sloppy Joe's. My strategy was successful and Sloppy Joe's did not run out of rum during my stay.
If you have never had the opportunity to visit Key West you should seriously consider going for the 2003 Hemingway Days Festival running from July 17th to the 20th. It would be a wonderful introduction to this delightful area. Those who have already had the pleasure of sampling Key West's eclectic delicacies will find the festival yet another reason to return. In fact all the Florida Keys cater to tourists, and each community has its own year-round schedule of tempting events. For more information on the 2003 Hemmingway Days Festival and other Key West and Florida Keys activities consult the Official Tourism Council Website for the Florida Keys at www.fla-keys.com.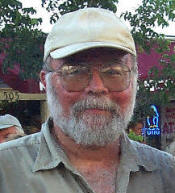 I hope I'll see you there! You can't miss me. I'll be the stocky gentleman in his mid-50's with a closely cropped full white beard, wearing a khaki safari outfit and a tan, long-billed fishing cap.
Oh yes, and I'll have Papa's Eyes!
* * * * *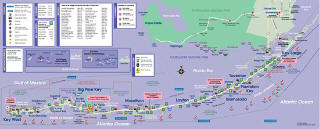 The Florida Keys are a tightly woven chain of small, low-lying islands extending out from the Florida mainland just below Miami.
They curve gracefully towards the southwest into the warm and clear waters of the Straits of Florida. These straits separate the Florida peninsula and the United States mainland from the island nation of Cuba. Key West, as its name implies, is the westernmost key, and as such is the last and southernmost key in that chain. It also has the distinction of being the southernmost city in the United States. It is in fact much closer to Cuba - just 90 miles, than to Miami - 159 miles.
Key West is connected to the Florida mainland by Highway 1 that leapfrogs its way over 42 bridges down the entire chain of islands. The drive itself is spectacular. Most of the highway lies right on the water, just several feet above sea level, and provides sweeping vistas of white beaches and azure bays. Pauses in these breathtaking expanses are afforded by leisurely passages through scenic towns along the route such Key Largo, Islamorada, Marathon and Big Pine Key.
Besides driving to Key West, there are a variety of transportation options including bus service from Miami, over-the-water ferries from both Miami and Fort Meyers, and a full service airport with local and major carriers featuring Comair. Using Comair and its big brother Delta Airlines, you can arrange direct or connecting flights from most U.S. cities.
* * * * *
Copyright © 2002 Bill Smart. All rights reserved.